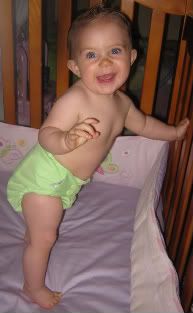 Hello out there in the Blog-osphere!
I'm about a month into my Cloth Diaper Experiment - my darling baby is almost 11 months old and I'm sure you're thinking "why start now, she's halfway through to potty training??" Well, there are a few reasons, but the most important to me was her poor, ouchie bum was getting too many rashes!
So after some major research (and some encouragement from my cloth-diapering cyber friends) I took the plunge and got a starter pack of
Flip Diapers
. I am thoroughly impressed! They are hugely versatile, and a more of a hybrid - they are a waterproof cover and have interchangeable inserts (both cloth and biodegradable disposable). But the feature that sold me is they are One Size, which allows them to fit from newborn to toddler (about 8-35 pounds). So not only will they fit my little one now, but will get her through potty training - and then can be saved and used for the next baby, or traded/sold second hand on one of the cloth diaper sites like DiaperSwappers!
We're having so much fun with this adventure! I have to say, if you're on the fence about trying cloth, give Flip a try, it's a great way to transition and you're doing something good for your baby and reducing the waste of disposables. We've cut our disposable consumption by 70% and I've spent less than $150 on cloth.
Happy Cloth Diapering!